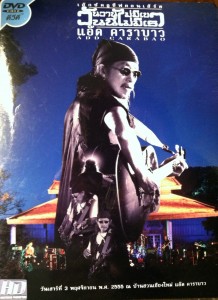 By Ann Norman (first posted as a review at eThaiCD.com not long after the DVD was released; no date available)
This concert was special because it showcased the legendary Aed Carabao's work from two recent solo albums: "Wan Waan Mai Mee Kow" (a great album) and "Gan Chon Maa," (a nearly perfect album). And the concert took place AT HIS HOUSE on the front porch!!! Honestly, his voice wasn't perfect that night, he was stretching for the high notes, but his candid remarks between the songs made the concert for me. Most starling, something he said while introducing a cover of Neil Young's "Heart of Gold" makes me believe that classic may have sparked an idea for the even more remarkable "Telay Jai." As if to confirm my theory, "Telay Jai" was performed just two songs later (by a woman I don't recognize). Among the older songs, "An Sung Su Ky" was a high point. And near the end he performed a memorizing version of a his "Maa Tuh Maa Rong Pleang" (Come on and Sing a Song)–a song in which music has the power to bring about utopia. I hadn't actually cared for this meandering song until I saw him do it live. It claims that while the music is playing "heaven also stays bound to Earth." Yep … at least that's what it often seems like, while I'm under the spell of this exceptional singer/composer.
WARNING: But be aware of the zone problem. You may have to play your DVD on a computer.