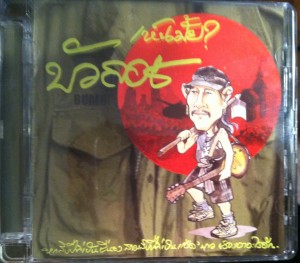 Review of "Hen Mai Bua Loy?" เห็นมั้ยบัวลอย, New Aed Carabao แอ๊ด คาราบาว solo album  
by Ann Norman (written September 20, 2014; edits December 30, 2014)
You can BUY THE ALBUM from the wonderful people at eThaiCD.com. There you can shop in English!
I almost didn't buy this album because it contains the song "Give Military Dictatorship a Chance." OK, that song is really called นาวารัฐบุรุษ "The Statesman" but it says in effect: "Ok, General Prayuth, let's see what you can do to improve Thailand." (This coming from the same person who 30 years ago wrote the antham เสียงเพลงแห่งเสรีภาพ "Siang Playng Heng Saripaap" (Music of Freedom) and the cynical ประชาธิปไตย "Bprachaatipbpadtai" (Democracy), which I would much prefer to quote from in reference to the current coup. But it is not my job to explain Aed Carabao. It is my mission to translate the lyrics of his songs, given that he is (to my knowledge) the best singer/songwriter in the world. He may be (for the moment) a collaborator, but he's also extremely independent and considered in his positions, and he's not doing it to make people love him. He's already lost a huge chunk of his former audience (Red Shirts, shut down some of his concerts) by being too moderate during the recent crisis, and begging for everyone to sit down and talk it out — with songs such as จับเข่า "Jap Kow" (Grab the Knees), which, regrettably, were not as musically compelling as what is contained in this album.
Because once again, following on กันชนหมา "Gan Chon Ma" (Dog Bumper) and วันวานไม่มีเขา วันนี้ไม่มีเรา "Waan Wan Mai Me Kow" (If Yesterday There Wasn't Her"), this is a VERY strong solo album. I could listen to it over and over from start to finish. The songs are mostly pop/country/bluegrass/rock, especially rock.
The highlights begin with the title song, เห็นมั้ยบัวลอย "Hen Mai Bua Loy?" (Do You See This, Bua Loy?"), a fun, danceable pop tune that riffs off the legendary Carabao song "Bua Loy." Bua Loy, is, of course, the good-hearted soldier and true friend who dies worrying out loud whether everyone else is alright. In the new song and must-see music video, Aed Carabao gets to play a caricature of himself as the grumpy old man tired from warning the young people. He sings "Do you see this, Bua Loy, my good friend? . . . . Do you hear the horrible news reaching your casket?" In the video, he decries the state of society, while young people enthusiastically commit all kinds of crimes and sins, in the end surrounding him in an orgy of boxing, fighting, and partying until he gets up from his chair, where he had been playing guitar, and walks off.
There is a remarkably original Asian-sounding (but not Thai-sounding) song มูซาชิ "Musachi" about a Samurai. It sounds like movie music, with flute and Asian instruments; the tune is meandering. I only catch a few of the lines, but the music paints a picture in my mind of a Samurai wandering on alone on horseback through some vast empty landscape. I LOVE IT. It's unlike any of Aed Carabao's other 1,000 songs to date (though I know he does scores for movies, so maybe this is related to that.)
With only piano accompaniment, P'Aed sings his heart out on the song อยากได้ยิน "[What Would You] Like to Hear?" (from the people passing by you everyday), a song reminiscent of a late-era Elton John song called "The Bridge." While the meaning of Elton John's song remains somewhat mysterious, Aed Carabao's trippy poetry always drives home a point. Here he presents an emotionally compelling case for moderation:
Here is paradise: the one and only world right here.
They say that our world amounts to the tip of the antennae of a snail,
[that] life is cheap as a cigarette stub
[If] so, learn about our hearts and minds;
release the spirit to cross the bridge to freedom
There is no happiness comparable to peace.
All [our] experience shows this is true
There is true, earnest anger.
History is [our] example.
It's a question awaiting an answer from people.
The rest of the song continues in this manner, begging for a wait-and-see approach to the current suspension of democracy and a reconciliation between the two sides.
There are several great rock and roll tracks: กรุงเทพเมืองเถื่อน "Illicit Bangkok," like a Jackson Browne "Running on Empty," is being being promoted second to 'Hen Mai Bua Loy?" by Carabao Official (Warner Music Thailand). I'm more interested in วางดาบ "Wang Dap" (Put Down the Sword), which rolls and crashes, and sweeps me along, though I don't know what it means. [Edit: Now translated; it's amazing.]  อาจารย์เสก "Ajahan Sek" is a delightfully energetic bluegrass tune with fiddle, banjo, piano, and drums (and a military sounding drum solo). The lyrics provides further commentary on the problems of Thai democracy. [Edit: The lyrics tell the story of  Seksan Praserkul (เสกสรรค์ ประเสริฐกุล), a student leader of a successful pro-democracy popular mass uprising that brought down the dictatorship of Thanom Kittikachorn in  Thailand in 1973. Again, wonderful!]
The final song, นาวารัฐบุรุษ "The Statesman," divided the fans. The tune is nice—dark, and important—and has been recycled from ไม่อยากทน "Mai Yaak Ton" (I Don't Want to Endure It), a song about a failed relationship, from off the last solo album. A recycled tune was necessary because the song came out ONLY TWO DAYS after the coup. A nicely produced music video followed just a week later. The lyrics of "The Statesman," scold the people for fighting and for the mess that passes for democracy, saying this is what gives the military the opportunity to take over. And then it basically asks General Prayuth (respectfully) to prove his good intentions by reforming Thailand.
The times they are a'changing. :-?
BUY IT at  eThaiCD.com, which is accessible to English speakers:
http://www.ethaicd.com/show.php?pid=79647
The official album preview Part 1 (below), begins with the title song "Hen Mai Bua Loy?" and the second song is "Wang Dap":
In this official album preview Part 2, you can hear snippets of "Musachit" and "Yaak Daiayin":
And this preview part 3 begins with "Ahjan Sek":