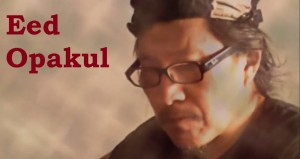 Eed Opakul อี๊ด โอภากุล (real name Yingyong Opakul ยิ่งยง โอภากุล) is a talented, interesting, and prolific Songs for Life artist, who also happens to be Aed Carabao's identical twin! He has a sweeter voice, does more acoustic music, and covers different themes than his brother. If you friend him or follow him on Facebook, you can watch him write a new song every couple days. It's amazing! Right after his 60th birthday (in November 2014) he began writing and posting songs straight to Facebook for his Facebook friends. Needless to say, we fans were delighted. By his 61st birthday, he'd written 100 songs, then he just kept going. The latest album "Yim Soo Fun" contains 30 of the best songs that he composed almost "live" on  Facebook. The next album will be similar. The previous album "How Bpen Kon Bpen Kwai" contains "Recovered" songs: The best songs from his 7 earlier albums re-recorded, often in a totally different style from the original.
Songs
ON the NEW ALBUM 
 ยิ้มสู้ฝัน Yim Soo Fun (Smile, Fight, Dream)
This album is LIMITED edition. BUY IT HERE before it is sold out.
Disc 1
3. โรฮิงญา Rohingya (by Eed Opakul)
4. คนไม่ใช่คน Kon Mai Chai Kon (People Who Aren't People)
7. รักขี้ลืม Rak Kee Leum (Forgetful Love) (Disc 1, Song 7)
8. รักแท้มีจริงๆ Rak Tae Mee Jing Jing (True Love Really Exists) [Or I Really Have True Love]
Disc 2
1. สหายเฟส Sahai Fayt (Facebook Friends)
3. หําหด Ham Hod (The Penis Shrinks ???!!!!) [Just Do It!!!]
8. เพื่อนแท้แค่มือเดียว Peuan Tae Kae Meu Dieow (Just One Hand from a True Friend)
13. ยิ้มสู้ฝัน Yim Soo Fun (Smile, Fight, Dream)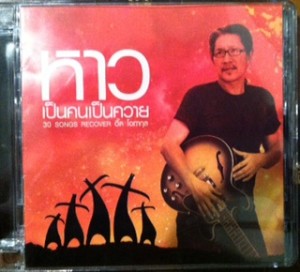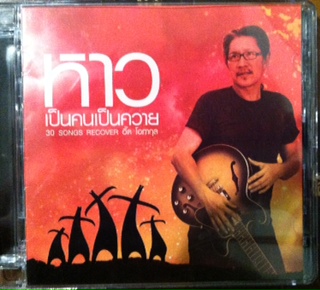 On The Album "How Bpen Kon Bpen Kwai" "หาวเป็นคนเป็นควาย"
30 recovered songs. READ THE RAVE REVIEW. You can BUY IT HERE.
Disc 1
1. เพื่อชีวิต Pua Chewit (For Life)
5. อยากขอโทษ Yaak Kor Toht (I Want to Say I'm Sorry)
11. ทะเลใจ Telay Jai (Ocean Heart) COVER VERSION
14. สุดดาว Sud Dao (To the End of the Stars!)
15. ยืนยัน Yeun Yan (Affirm)
Disc 2
1. นักสู้บลูยีนส์้ Nak Soo Bloo Yeen (Blue Jeans Fighter)
9. ควายธนู Kwai Tanu (Magic Buffao)
10. สัญญาคนสัญญาควาย Sanyaa Kon Sanyaa Kwai (Promises of People, Promises of Buffalos)
15. เอดส์ AIDS
Not yet on an album (posted straight to Facebook)
ถามกวี Taam Gawee (Ask the Poet)
เอากําลังใจมาฝาก Ow Gamlangjai Ma Fak (I Bring You Moral Support)
คนเม้าส์เขย่าสาย Kon Mao Kayao Saai (Person, Harmonica, and Vibrating Strings)
รักผลัดใบ Rak Plad Bai (Love Sheds Leaves)
บิลลี่ Billy
สมาคมคนลําเค็ญ Sama Kom Kon Lam-Ken (In Association with People in Poverty)
เพลงคนเขียนเพลง Playng Kon Kian Playng (Song of the Songwriter)
แยกนี้ชื่อชีวิต Yaek Nee Keu Chewit (This Branch in the Road is Life)
เหว่ว้าวิเหวงโหวง Way-Wa We Weng-Wong (Lonely Empty)
ไอน์สไตน์ขอเอาใจช่วย Einstein Kaw Ow Jai Chuay (Einstein Wishes You Success)
Poems (Lyrics, no music yet)
ปาฏิหาริย์ Bpaatihaan (Miracles)
กระต่าย จันทร์ ตะวัน รัก Gradai, Jan, Dtawan, Rak (Rabbit, Moon, Sun, Love)