by Ann Norman (4/14/2018)
THIS ALBUM IS HIGHLY RECOMMENDED (though a little pricey): BUY IT AT eTHAICD.
In this album, Add Carabao covers the songs of famous Luuk Tung (Thai Country) singer Sanyan Sanya, and it's BEAUTIFUL! Sanyan Sanya's most famous song was "รักหน้อย ๆ  แต่รักนานๆ " ("Rak Noi Noi, Dtae Rak Naan Naan") "Love Little [by] Little,  But Love for a Long, Long Time," meaning, "Love me a little bit at a time so as to to make love last; don't get infatuated and then burn out." The title of this album invites us to"รักสายัณห์น้อย ๆ แต่รักนานๆ" "Love Sanyan Little by Little, but for a Long, Long Time."
This musical style sounds very old timey and very "Thai." The direct translation of "Luuk Tung" is "Child of the Fields," and indeed Sanyan Sanya grew up in a family of farmers and working in the fields, and then pumping gas, until he began traveling to, and winning, singing contests, and earning a living in various bands, also as a dancer. He died five years ago, and the money from this rather expensive album goes to help his family.
I knew this was going to be good when Add Carabao (or someone close to him) began posting video of him practicing the songs Karaoke-style in a bedroom or a kitchen. Grasping a water bottle or a TV remote as a pretend microphone, and straining to concentrate, he would belt out a challenging song, and nail it. The results were memorizing. If the iPhone video was this good, how good would an official studio album be? Yeah, it's perfect.
This album was a really great idea. Sanyan Sanya's songs are just great Karaoke songs that test one's skill as a singer. It about the vocal gymnastics, showing off one's range, and making the most out of every note. And Add Carabao is an amazing singer . . . still. I got to meet him once, immediately after a sound check, and my first words to him were, "Wow . . .  you sound as good as you ever did!" Add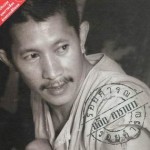 Carabao has already done an album of old timey songs, with a sound similar to this album: รอยคำรณ Roi Kam Ron (1994) . It is one of my favorite Add Carabao albums. Another clue to his abilities on this album would be his contribution to the recent Sek Loso cover album, which got a lot of attention on YouTube.
The last song on the album is Sayan Sanya himself covering a Carabao song–"บาปบริสุทธิ์" (Sin/Innocence)–which is pretty cool. I haven't translated that Carabao song yet, but is about love dying after marriage (treated in a comic way).*
This is one of Warner Music Thailand's "gold edition" CDs, which means it has special packaging and bonus materials, in this case a little canvas bag with the title of the album on it.
SONGS ON THE ALBUM TRANSLATED AT CARABAO IN ENGLISH:
2) พบรักปากน้ำโพ Pop Rak Bpak Nam Po (Find Love in Pak Nam Pho)
13) ฝากเพลงลอยลม Fak Playng Loy Lom (Entrust This Song to the Wind)
*This the Carabao song covered by Sanyan Sanya "บาปบริสุทธิ์" ("Sin/Innocence")  was originally published on มนต์เพลงคาราบาว Mon Playng Carabao (The Spell of Carabao songs), a tribute album of covers for the Carabao 25th Anniversary) REVIEWED HERE but no longer available. The song บาปบริสุทธิ์" ("Sin/Innocence") was written by Lek Carabao.