by อี๊ด โอภากุล Eed Opakul
Poem posted December 2, 2015, by the author on his Facebook page with the picture below.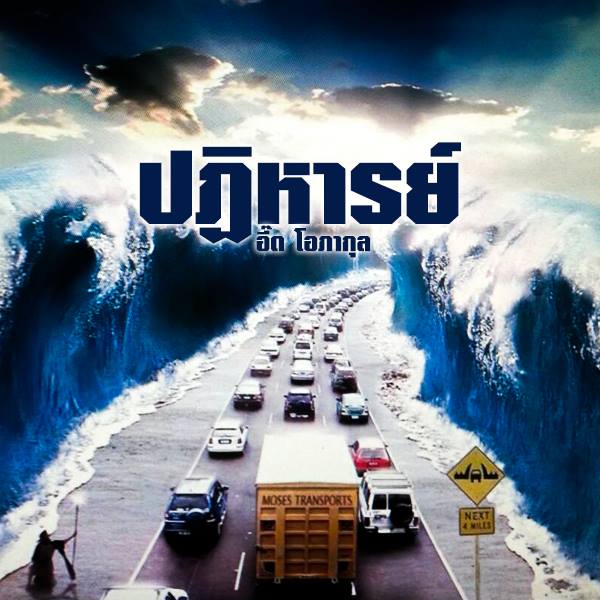 ไม่มีความลี้ลับ อยู่ในโลกนี้นั้น
[We] don't have any mysterious happenings in this world, like that
มีเเต่ความเพ้อฝัน ที่ใจตนค้นหา
[We] do, but [they] are fantasies in the heart of the person searching
อาจจะเจอสักครั้ง เมื่อถูกที่ถูกเวลา
Maybe [we'll] encounter [one] just one time, when the time is right
เเละเราไม่มีทางรู้เลยว่า นั่นคือปาฏิหาริย์
And we['ll] have no way at all to know that THAT is a miracle
บ้างว่าโชคหรือบุญ ให้ประสพพบเจอ
Some say that luck or merit gives [one] success in encountering [miracles]
มิอาจจะพร่ำเพ้อ อ้อนวอนขอจากสวรรค์
Maybe [we better] not be delirious begging a favor from heaven
ชีวิตที่อ่อนเเอ คอยทั้งหวังทั้งฝัน
Life that is weak and immature waits [for] every hope and dream
เพียงสักครั้งสิ่งมหัศจรรย์ ดาลดลปาฏิหาริย์
Just one time, something wondrous! Tie a miracle to the ground.
* รอ..ปาฏิหาริย์ ที่ยังไม่เป็นจริง
Waiting . . . for a miracle, which hasn't yet been real
หรือนั่นคือสิ่ง เกินกว่าใจเข้าใจ
Or is it a thing beyond our understanding?
ร่ำร้องมองหา ไขว่คว้าอยู่เเห่งไหน
Where can we make a request for it, search for it, or go grab it?
ปาฏิหาริย์อันยิ่งใหญ่….ใยไม่เห็น
A great miracle. Why don't [we] see it?
สพตากับหัวใจ รับรู้ปริศนา
The eye glimpses the heart and recognizes the enigma
ชีวิตคือศรัทธา เเละเป็นอย่างที่มันเป็น
Life is having trust. And it is what it is.
ตราบมีลมหายใจ ความลี้ลับใช่ซ่อนเร้น
As long as we have breath, the mystery, yes, is concealed
ชีวิตเลือดเนื้อที่ยังเป็น ๆ นั่นล่ะ.ปาฏิหาริย์
The life remaining, one's own flesh and blood, that still exists. That right there [is the] miracle
ยิ่งกว่ามหัศจรรย์ ยิ่งกว่าจริงยิ่งกว่าฝัน
More than miraculous, more than [we can] imagine
ปาฏิหาริย์มีจริงมานมนาน ตั้งเเต่วันที่เรากำเนิด
[We]'ve had a real miracle for a long time now. Since the day that we were born.
ไม่ต้องรอ ๆ ๆ อีกเเล้ว….ปาฏิหาริย์
You don't have to wait any longer . . . for the miracle